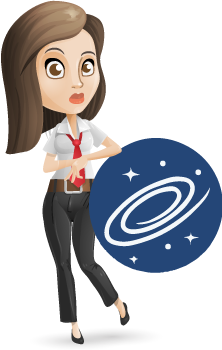 Astronomy after the school bell.
The stars still shine after the school bell rings. We want everyone to stay within reach of the stars.
Get Ready For… The Great American Eclipse!
Monday, August 21, 2017
The Great American Eclipse will take place on Monday, August 21. A total solar eclipse has not been experienced in the contiguous United States since 1979. This eclipse will sweep across much of the U.S., from the west coast of Oregon to the east coast of South Carolina!
During this event, Alachua County will experience a partial solar eclipse from 1:15pm until 4:11pm Eastern Time. Maximum eclipse will occur at 2:47pm with 89% of the sun's disk blocked by the moon. During all partial phases of the eclipse, it will not be safe to look directly at the sun. In order to enjoy this spectacular sight, solar projections or solar-safe glasses must be used.
The Asterion Foundation, in cooperation with the Kika Silva Pla Planetarium and the Alachua County Library District, is providing free solar viewers to residents of Alachua County. Pick up your free solar viewer at any Alachua County library or at the Kika Silva Pla Planetarium during regular business hours. Viewers will be available beginning Tuesday, August 1, and only while supplies last.
Enjoy the eclipse safely and keep looking up!
Outreach Organization Promotion and Enhancement
Asterion Foundation supports schools, universities, libraries, planetaria, observatories, museums and science clubs in their public outreach efforts. We assist in promoting and enhancing existing outreach organizations.
Microgrants for Astronomy Outreach Projects
Asterion Foundation provides microgrants for astronomy outreach projects throughout the US. Grants range from $500 to $5,000. Many grants are partial grants that lead, seed or finish projects. Do you have a project that we can help lift off?
Bridging the Gap Between Journalism and Scientific Literacy
The Asterion Foundation was founded to identify common goals among astronomy organizations specifically in the area of public outreach. We also aspire to bridge the gap between journalism and scientific literacy.